Madelaine Petsch is the South African actress who was raised in the Pacific Northwest and who entered your life via the Riverdale series in which she played Cheryl Blossom.
Like the other cast members of that SUPER popular show, she became an instant celebrity, influencer and relevant human in this social media based society that we live in.
She hasn't done all that much besides Riverdale, but what would you have to, when that series is so big and really, she was the stand out character and performer from an overall crappy series.
The fiery and amazing redheaded babe is apparently at Fashion Week in Europe, because that is where the relevant humans go this time of year!
It is the year of the nipple flash, everyone's doing it, but this is wild!
She just posted a "free the nipple" image to her social media for all to see, for free, making it a free nipple pic thanks to no subscription needed because of fashion baby. Her roundies and pink as hell nipples didn't let the pink shirt stop them. They look pretty great to me!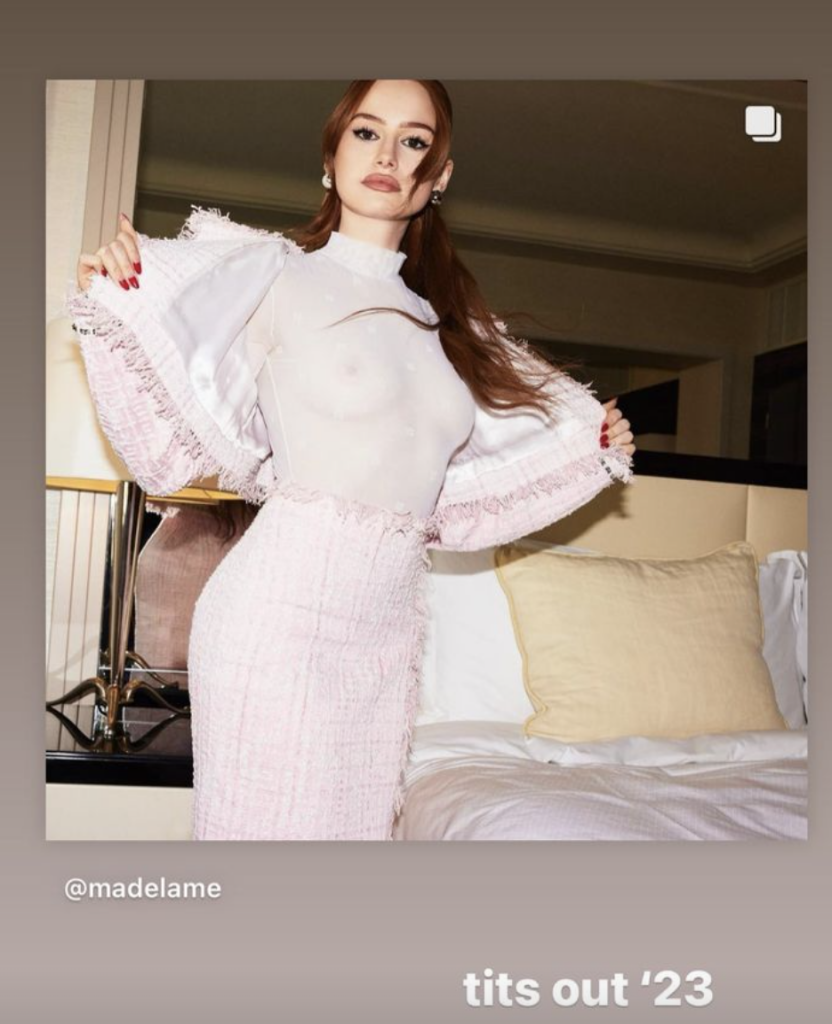 I remember a time we needed aggressive camera flashes and a paparazzi team to gift us these braless moments, but the times have changed and the girls like showing off their girls.
Despite the terms and conditions around the mode of conduct on Instagram, some people, mainly the important and famous get away with flashing their hot boobs on the platform, like Madelaine Petsch. While others get their accounts suspended. The world is not fair, but when some boobs make it past the censorship, we must celebrate!
Her Riverdale co-stars, Cami Mendes and Lili Reinhart commented on the picture with their support. Lili said "Oops I'm gay", mocking the LGBTQ community, I guess, while Mendes said "I will never recover from this".