Olivia Ponton is an 18 year old TikTok star turned model, who has been pretty one about her sexuality and has made sure that we all know she's gay, multiple times. Olivia shot a new video for her TikTok channel giving us all an updated "tattoo tour" while wearing an "I Love Sluts" shirt, which something I think we all agree with!
Olivia starts her tattoo tour off with her first tattoo, a series of rainbow dots, before moving to her next tattoo which straight up just says "Gay".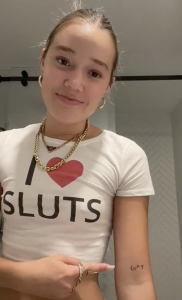 Watch the video below to see Olivia's full tattoo tour and watch her try to cover her tracks when she shows us a missing finger nail on her hand and goes on to explain that it has to do with being a member of the LGBTQ+ community... I think she means she was fingering a chick! Anyway see more of the slut loving Olivia in the gallery!