By now you have probably seen the latest video from our friends over at Eats, starring model and DJ Tahlia Paris. The video has been going viral over on Instagram and has Tahlia showing off her summer body in a bright yellow string bikini.
The video leaves you wanting even more of the stunning Tahlia and lucky for you, we got just that! Eats has shared an uncensored clip from the new video that shows Tahlia pulling down her bikini, we're assuming she's stripping down to start sunning her genitals, since that seems to be a new trend that none of us are complaining about!
It looks like Tahlia has some help on the set of the new video, with Playboy model Corrie Yee applying some baby oil in one of the behind the scenes shots.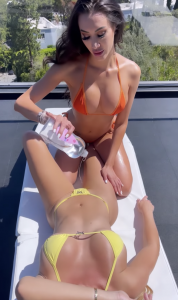 Here's the uncensored version that Instagram didn't get to see! Keep scrolling for more from Eats and follow Tahlia's summer bikini updates over on her Instagram!