Britney Spears, or should I say the Instagram account alleging to be Britney Spears, has been posting some seriously unhinged content over the last few months and this weekend was no different.
The pop stars account has been sharing photos and videos that are clearly being pulled from a hard drive somewhere and are 100% not new. All the true Britney fans know that something weird is going on over at Casa Spears, but to the rest of us it just looks like the pop princess is feeling herself, like a lot.
This weekend the account shared two images of the singer sitting back in the bathtub à la Whitney Houston, covering her nipples with her hands and using a flower emoji to cover her front hole in the shot.
My question for Britney is, who on earth gets into the tub before the water fills up?!
"Britney" captioned the strange photo with an even stranger caption stating that she "likes to suck" whatever that means.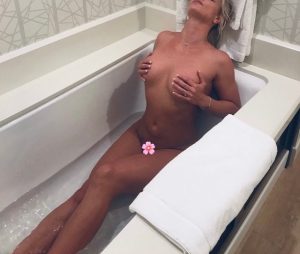 "I like to suck !!! Never professional pics … sucking comes easy for me !!! Keep clapping bitch !!!"
See the photos in the gallery below and say a little prayer for the real Britney Jean Spears today , wherever she may be..