UNCATEGORIZED
Jordyn Jones Is Your Valentine!

Echo Lawrence - February 15, 2022
Jordyn Jones got all us excited a few days ago when she shared a new Valentine's Day themed photoshoot that had her posing with a chocolate cake that read "dump her". Well she came back to share even more for Valentine's Day with a series of new thirst traps that have her wearing red lingerie and posing on her bed. See more of your Valentine Jordyn Jones in the gallery!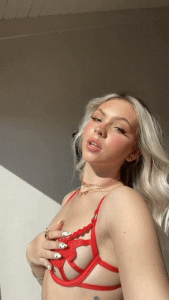 Disclaimer: All rights reserved for writing and editorial content. No rights or credit claimed for any images featured on egoallstars.com unless stated. If you own rights to any of the images because YOU ARE THE PHOTOGRAPHER and do not wish them to appear here, please contact us info(@)egotastic.com and they will be promptly removed. If you are a representative of the photographer, provide signed documentation in your query that you are acting on that individual's legal copyright holder status.